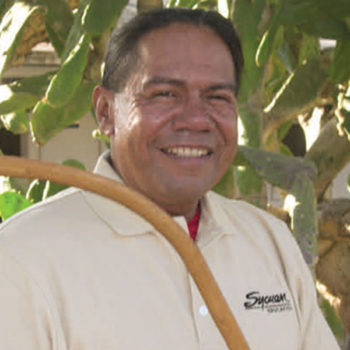 Director
Stan Rodriguez, EdD
Director of the Board, Instructor
Palimanan Stan Rodriguez (Iipai, Santa Ysabel) learned traditional Kumeyaay knowledge, language, and culture from his grandmother and other Kumeyaay elders. He has spent his career revitalizing cultural knowledge by teaching humanities, taking on language apprentices, participating in cultural exchanges, playing an active role in his community, and traveling to advocate for indigenous education. 
Recently, Stan has spearheaded language revitalization efforts by partnering with tribes to offer Kumeyaay Language Immersion programs. In partnership with Cuyamaca Community College, KCC now offers an accredited language immersion summer course. 
Stan has an MA in Human Behavior and received his doctorate degree at UCSD.
Stan is the instructor for KCC's NAKY Language I, II, III and Humanities courses.
Email: stan.rodriguez@gcccd.edu